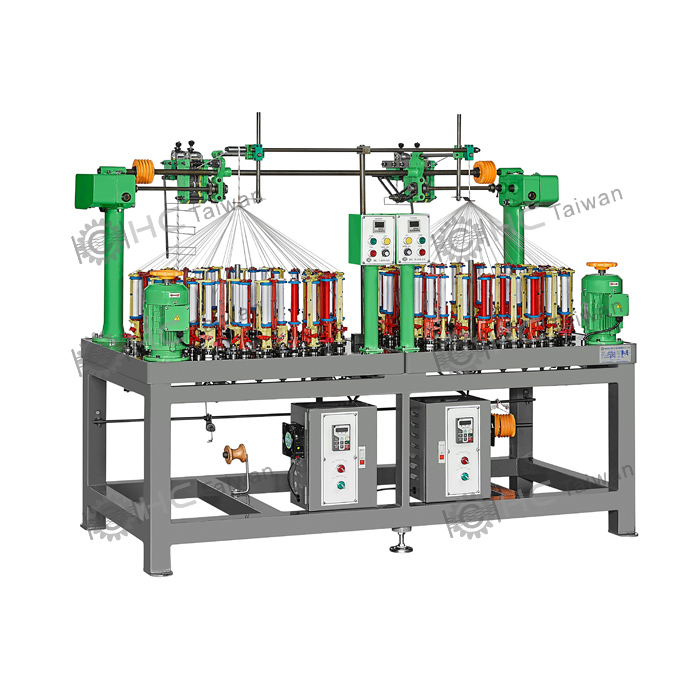 SHOELACE BRAIDING MACHINE
RA-48-1×2(90)
---
Carriers Per Head:48
Heads:2
Horngear size in mm:90
Motor Power:3/4HP(0.55KW)×2
Horngear Max r.p.m.:330
Carrier type:A
---
The shoelace braiding machine is a highly efficient and versatile equipment designed for the production of braided shoelaces. With its advanced features and robust construction, it offers a reliable solution for shoelace manufacturers.
Equipped with 48 carriers per head and 2 heads, this machine has the capacity to produce a large quantity of shoelaces in a single operation. The high number of carriers allows for increased productivity and faster production cycles, meeting the demands of large-scale manufacturing.
The horngear size of 90 mm ensures precise and consistent braiding performance. This size is carefully chosen to achieve optimal braiding results and maintain the desired quality of the shoelaces. The machine's ability to handle different materials and produce various braiding patterns makes it suitable for a wide range of shoelace styles.
Powered by two 3/4HP (0.55KW) motors, the shoelace braiding machine delivers the necessary power and speed for efficient operation. The motors provide the required torque to drive the braiding process and ensure smooth and uniform weaving. With a maximum rotation speed of 330 revolutions per minute (r.p.m.), the machine can achieve fast and accurate braiding results.